The Next Antibiotic Could Be Hiding in Your Backyard.
CRATER is delighted to announce that we have become an official partner of Soils for Science, a groundbreaking citizen-science program dedicated to finding new antibiotics to fight against drug-resistant infections commonly known as 'superbugs'. 
This Australian-first program is run by the Institute of Molecular Bioscience (IMB) at the University of Queensland, and examines soil samples sent in by the public for new microbes that could be developed into new antibiotics, antifungals and other medicines.  
We're big on soil science here at CRATER, and the Soils for Science program aligns with our foundation's goals of promoting the importance of nature to human and animal health.
Join us! Help Find the Next Antibiotic
Did you know that more than half of all antibiotics in existence have been developed from microbes found in soil and nature? And that 'superbugs' threaten to cause 10  million deaths per year by 2050 if we don't find new drugs to treat them?
The soil on your property, or even your suburban backyard, may hold the key to the next microbial discovery that could change the world of medicine forever.
It's so very easy to help out and get involved in this project. All you need to do is:
Collect soil samples with your kit

Register your samples in the app

Send the sample back to IMB in the postage-paid bag

Visit the

Soils for Science Gallery

to view images of soil microbes

Share image of soils microbes with friends and family, and on social media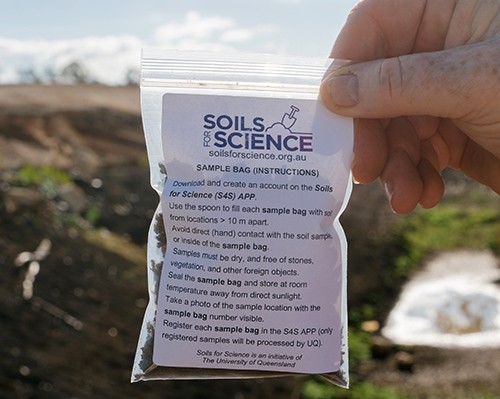 WHY WE'VE PARTNERED WITH SOILS FOR SCIENCE
The soil on Goondicum Station is rich in microbes thanks to years of regenerative agriculture practices, and CRATER sees our partnership with Soils for Science as another way to show the mutual benefits of working in harmony with the land and preserving our soil resources.
CRATER is actively participating in the Soils for Science project by submitting the healthy soils of the Goondicum Crater for study, but we are also highly committed to spreading the word about this fantastic and potentially world-changing project. 
We're hoping that you reading this at home will get involved, and we're also working to promote the program to all our CRATER visitors, workshop participants, and partners. We'll be working to get as many people signed up to the project as possible, and we'd love you to help with that by encouraging your network to get involved. 
Remember, the more people that are involved — the more samples, the more information we can gather— the more chance we have to find the next life-changing medicine!
So request your soil kit today !
We are proud to support the great work of the IMB team from UQ. If you're interested in their other groundbreaking work on using animal venoms to develop new medicines, then you'll be fascinated by our CRATER documentary featuring the IMB team and a glow-in-the-dark scorpion, which was filmed right here at our research base on Goondicum Station.